About Ichikai Town
Ichikai Town is a town blessed with abundant nature overlooking the serene paddy fields in Tochigi Prefecture.In this idyllic town, the time passes by slowly.You may indulge yourself in the time spent unique to the countryside, not found elsewhere in the city, by the untouched scenes on the Satoyama mountain range.
Accessible from the central within 2 hours, and 40 mins from the nearby city of Utsunomiya and Mooka by car. Why not come and give yourself some time to immerse in the nature in Ichikawa Town, where it is "much closer than you imagine"?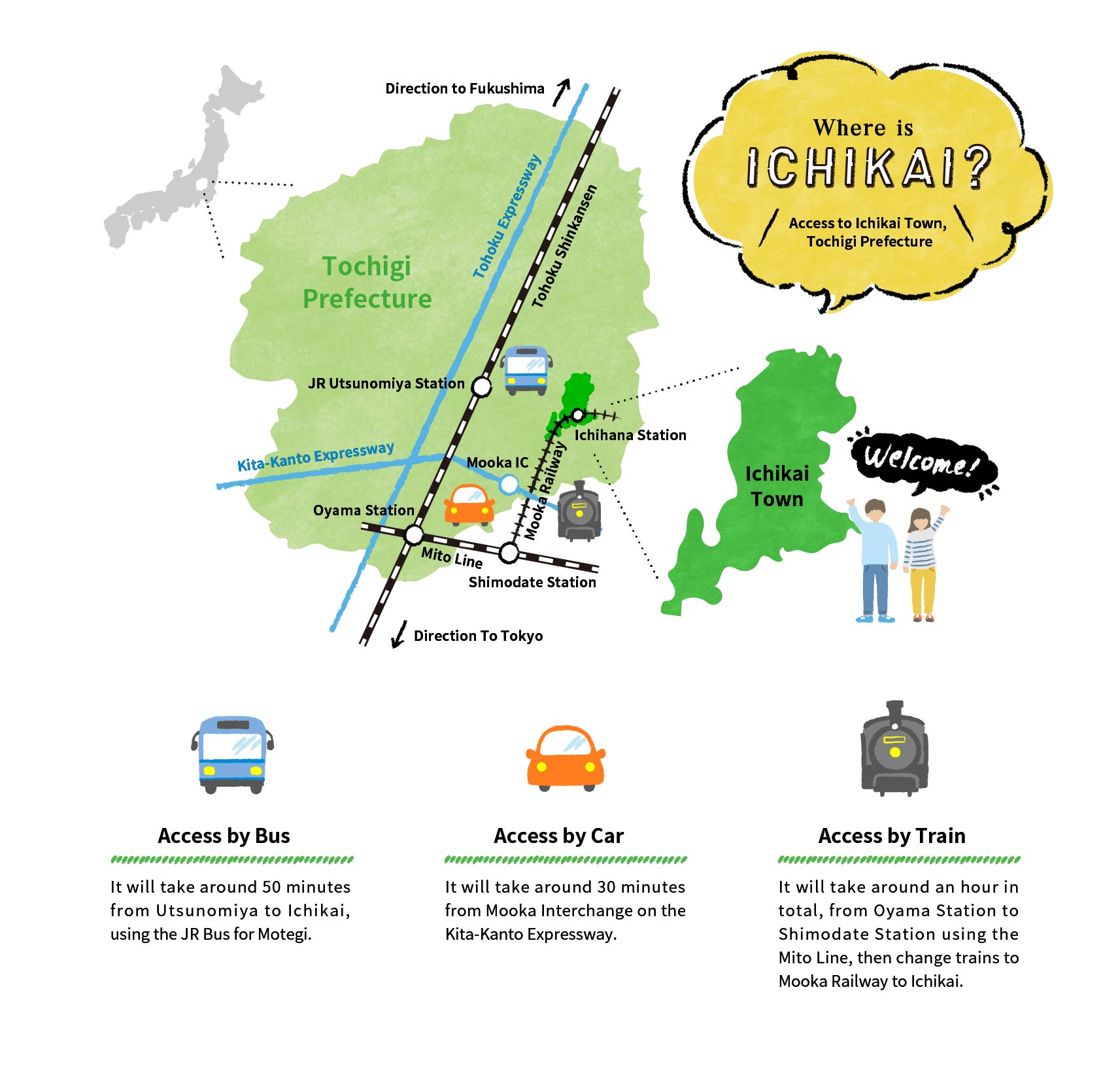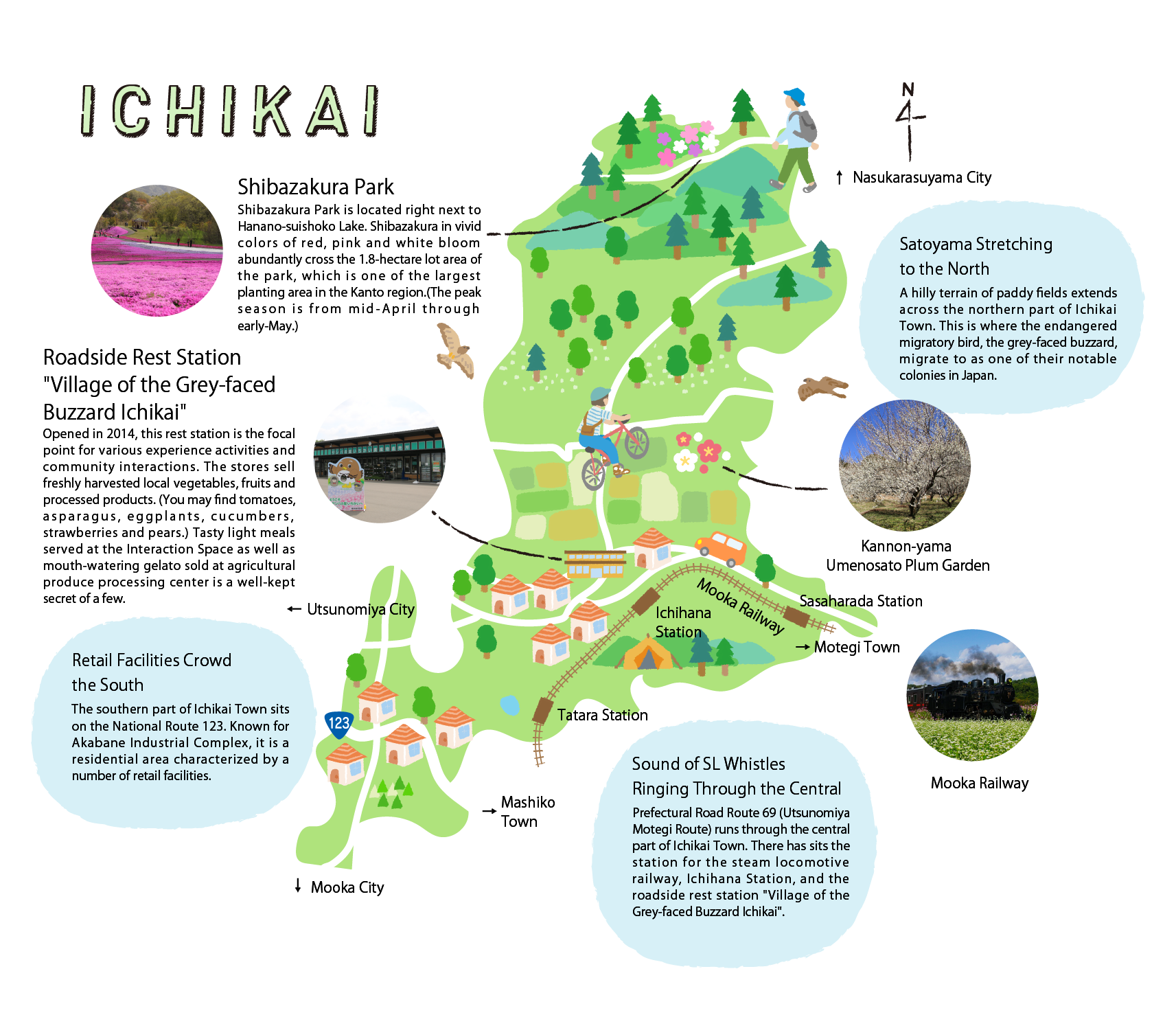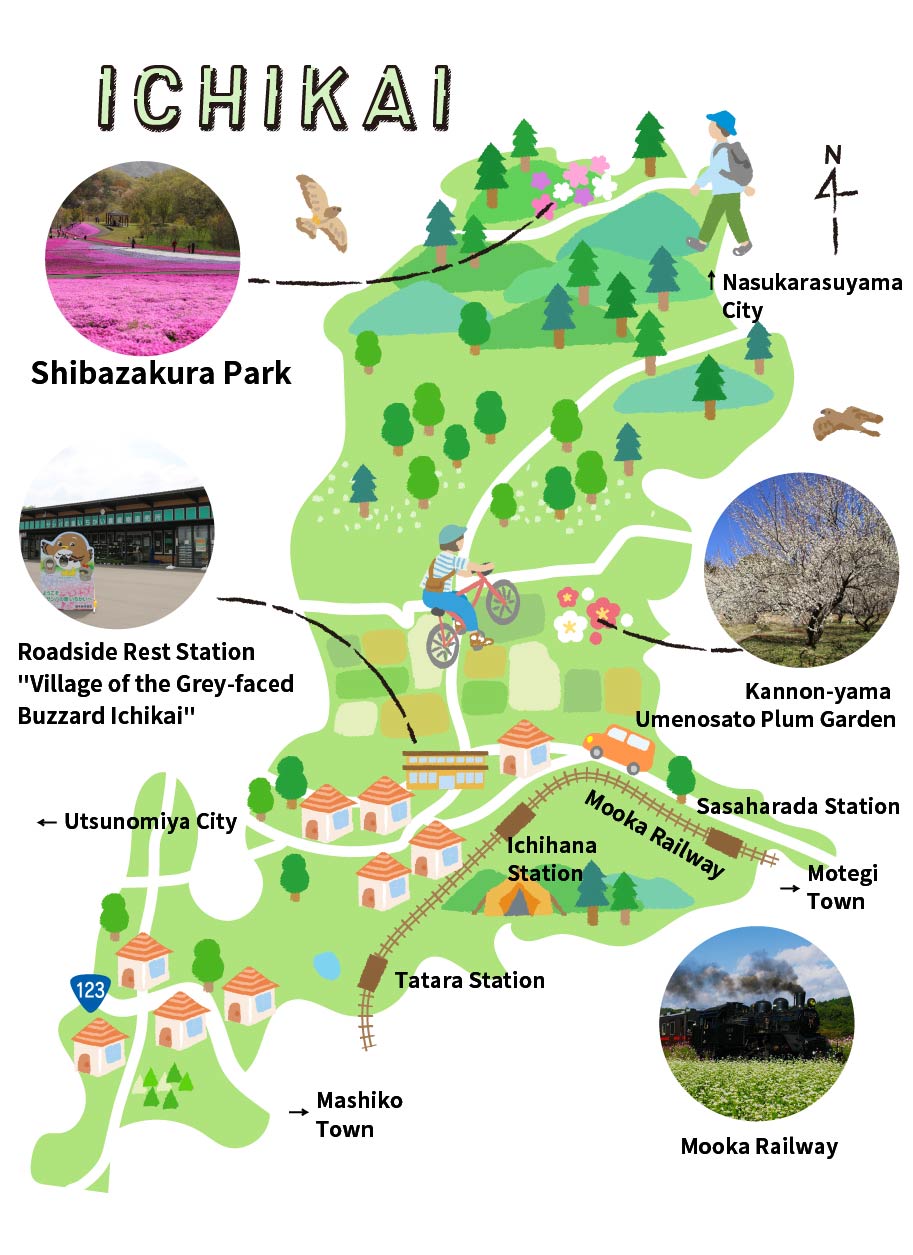 Shibazakura Park
Shibazakura Park is located right next to Hanano-suishoko Lake. Shibazakura in vivid colors of red, pink and white bloom abundantly cross the 1.8-hectare lot area of the park, which is one of the largest planting area in the Kanto region. (The peak season is from mid-April through early-May.)
Roadside Rest Station "Village of the Grey-faced Buzzard Ichikai"
Opened in 2014, this rest station is the focal point for various experience activities and community interactions. The stores sell freshly harvested local vegetables, fruits and processed products. (You may find tomatoes, asparagus, eggplants, cucumbers, strawberries and pears.) Tasty light meals served at the Interaction Space as well as mouth-watering gelato sold at agricultural produce processing center is a well-kept secret of a few.
Satoyama Stretching to the NorthA hilly terrain of paddy fields extends across the northern part of Ichikai Town. This is where the endangered migratory bird, the grey-faced buzzard, migrate to as one of their notable colonies in Japan.
Sound of SL Whistles Ringing Through the Central
Prefectural Road Route 69 (Utsunomiya Motegi Route) runs through the central part of Ichikai Town. There has sits the station for the steam locomotive railway, Ichihana Station, and the roadside rest station "Village of the Grey-faced Buzzard Ichikai".
Retail Facilities Crowd the South
The southern part of Ichikai Town sits on the National Route 123. Known for Akabane Industrial Complex, it is a residential area characterized by a number of retail facilities.